Medications

for ADD & ADHD
There are two main medication groups for the treatment of ADD and ADHD : Stimulants and Non-stimulants.
Medical treatment depends on a few things. From my perspective, I always want to use the drug which is easiest, cheapest, and works best. It turns out that about half of the children with ADHD have other neuropsychiatric problems. It is the presence or absence of these other problems which can determine which drug I use. Do they have tics? If so, certain drugs work much better. Are there signs of anxiety and depression? This means certain things will work and other will not. The first choice of drugs for ADHD are the stimulants. The other drugs are all second choice and usually reserved for children who do not respond to the stimulant drugs.
Stimulant medications are the most commonly used for the treatment of ADD and ADHD in both adults and children. There are two main pharmacological agents are in this class:
Methylphenidate
Amphetamine
There are two delivery mechanisms:
Immediate Release or Short Acting (IR)
Extended Release or Long Acting (XR)
Vyvanse
Ritalin
Adderall XR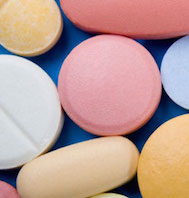 Non-Stimulants
The Stimulants
Methylphenidate (trade names Concerta, Methylin, Ritalin, Quillivant XR) and Amphetamines (Adderall, Adderall XR) had been studied the most for the past 50 years and used in both children and adults since 1960 for ADD and ADHD. The stimulants work by increasing the Dopamine and Norepinephrine levels in the synaptic junctions of the brain. They allow proper transmission of the thought processes in the brain resulting in the improved performance of the prefrontal cortex which is the center of "Executive Function". Research indicates that the Amphetamines improve the brain's networking efficiency, improve performance on difficult and boring tasks and improve the working memory. There is improvement of physical stamina, endurance and improved fine motor coordination. Very high doses of these medications can cause adverse side effects of Psychosis impairment of athletic performance. There is abuse potential and has to be used under direct supervision of adults.
Which is the best medicine?

The Amphetamine Salts (Adderall) offers the best price/performance of all the stimulants.
The choice of medication also depends on the presence of other co-existing psychiatric conditions like Tics, Depression, Anxiety, Oppositional Defiant Disorder, Psychosis or Bipolar disorder.
Using stimulants in certain Psychiatric conditions can result in severe side effects. In some patients, Amphetamines can cause intolerance or adverse side effects in which case we can try the Methylphenidate group or non-stimulants.
The Vyvanse (Lisdexamfetamine) is a form of Amphetamine with molecular structure consisting of dextroamphetamine coupled with the essential amino acid L-lysine. It is a pro drug with unique ability to deliver a constant and even drug level in the blood which lasts up to 12 hours with a single dose.
Many health insurances require that the Adderall and Ritalin should be tried before they allow the usage of the Vyvanse. For more information please visit Vyvanse.
Importance of individualized dosing

We need to customize the dosage for each and every patient in the treatment of ADD and ADHD. Some patients require higher doses than others due to the fact that they metabolize the medications faster. Some patients need much lower levels of medication. At the clinic we start all new patients with a very small dosage and gradually increase the medication while monitoring the side effects and the improvement of executive function.
read more...
Generic Name
Extended Release
Short Acting
Methylpenidate
Hydroichoride
Concerta
Daytrana Patch
Metadate
Ritalin, Ritalin SR, Ritalin LA
Methylin Tablet
Ritalin Tablet
Amphetamie
Adderall XR Capsule
Adderall Tablet
Lysdexamphetamine Dimesylate
Vyvanse Capsule
Dexmethylphenidate
Focalin XR Capsule
Focalin Tablet
Dextroampetamine
Dexedrine Capsule
---
Side Effects of Stimulants
01

Sleep

Insomnia is one of the common side effect of the Stimulants. Sleep deprivation cause irritability, poor concentration, and fatigue leading to poor academic and work performance.Remove TV and electronic gadgets from bedrooms.Avoid TV or computer screens for one hour prior to the sleep time. Soft soothing music and reading a book may be in order. There are certain medications we can use to help with sleep if insomnia becomes a persistent problem.

02

Loss of Appetite

Lack of appetite and poor food intake is very common with stimulant medications. After all, these are the same family of drugs used for weight loss. I keep track of the weight of my patients at every single visit. If there is too much weight loss, we may have to lower the stimulant dosage and add a non-stimulant to get the effective therapeutic results.

Aliquam dapibus tincidunt metus. Praesent justo dolor, lobortis quis, lobortis dignissim,

03

Rebound

The short acting drugs (Adderall and Ritalin) often can cause "rebound" effect. When the the drug is wearing off the child has exaggerated symptoms of the ADD/ADHD. This can last 2-3 hours. This problem can be solved by giving a very small dose of stimulant medication at 3:30 – 4:00 pm.